Dataloy VMS
Providing strategic certainty to your voyage management at all its stages.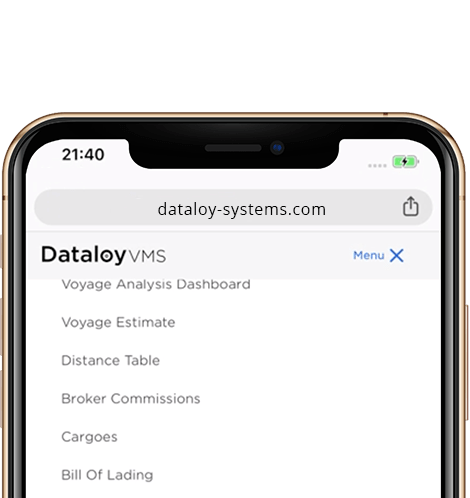 Dataloy VMS is an advanced and comprehensive software system for voyage management at all its stages, from planning to post fixture.
Recognized for its flexible structure and user-friendly interface, Dataloy VMS is  the core system solution of leading shipping companies worldwide.

Voyage Estimate System
Dataloy VES is a voyage calculation tool which can be used for both voyage charter and time charter.
Why Choose Dataloy VMS
Company Diversity
Dataloy provides relevant shipping solutions regardless of your company structure and business focus. Anything from handling end to end workflows of integrated shipping companies to companies that specialise in only specific parts.
Time charter in and out

Pool ventures

Fully owned and operated fleet end-to-end workflows

Commercial Management,

Competitive brokerage &

Traders
Charterers
From fairly simple things like securing vessels, finding new opportunities to arrange COAs and book spot cargoes to more complex ones, like supervising all of the operations and Post-Fixture, to ensure voyages achieve maximum efficiency.
Estimate Voyages
Vessel and Scenario Planning
Vessel's performance monitoring & analysis, minimising operational costs
Integrated voyage management from a to z
Operators
Our VMS is a favourite among many ship operations specialists focusing on efficient system use where the voyage management and day to day operations are taken care of in a centralised manner facilitating easy operation management.
Efficient and well placed functionality

End to end workflow capacity 

Business logic in focus for great user experience

Integration capacity for your own built solutions
Partners
We are proud of our partners who support us every step of the way.
What our clients say
[mi-testimonial-vc id="5d5ab8bba8bb6″ display_mode="style_vidi" style_vidi_layout="slider" style_vidi_slider_style="nav" author_designation="yes" author_rating="no" large_desktop_number_of_grid="1″ desktop_number_of_grid="1″ tab_number_of_grid="1″ mobile_number_of_grid="1″ small_mobile_number_of_grid="1″ testimonial="%5B%7B%22author_image%22%3A%2276%22%2C%22author_name%22%3A%22Magnus%22%2C%22description%22%3A%22Lorem%20ipsum%20dolor%20sit%20amet%2C%20consectetur%20adipiscing%20elit.%20Duis%20aliquet%20elit%20ipsum%2C%5Cnet%20venenatis%20felis%20rutrum%20vel.%20Curabitur%20vehicula%20ornare%20felis.%20Etiam%20bibendum%5Cnenim%20vel%20mauris%20lacinia%20bibendum.%22%7D%2C%7B%22author_image%22%3A%2284%22%2C%22author_name%22%3A%22Lars%22%2C%22description%22%3A%22Lorem%20ipsum%20dolor%20sit%20amet%2C%20consectetur%20adipiscing%20elit.%20Duis%20aliquet%20elit%20ipsum%2C%5Cnet%20venenatis%20felis%20rutrum%20vel.%20Curabitur%20vehicula%20ornare%20felis.%20Etiam%20bibendum%5Cnenim%20vel%20mauris%20lacinia%20bibendum.%22%7D%5D" author_designation_font_color="" style_vidi_nav_text_color="" style_vidi_nav_bg_color="" style_vidi_nav_text_hover_color="" style_vidi_nav_bg_hover_color=""]