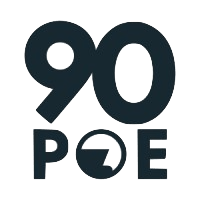 About 90POE
90POE is here to make ship owners and operators more efficient and effective. So we start with your needs, not our products. We begin every new relationship by asking what you are trying to achieve and what challenges you face in getting there. And we'll get you there without reinventing the wheel or creating extra burdens.
Whether your shipping company is a private concern or publicly listed, nobody knows your business better than you. Our role is simply to help you build on that knowledge by taking advantage of the latest technology. It's never all or nothing, and there's no need for a 'big bang': we will help you make the most of your existing technology through integration and transitioning at a pace that suits your business.
With our experience in shipping, oil and gas, manufacturing and defence, we understand only too well the worries and frustrations felt by end users of fast-moving technology. We have been there, listened to the sales pitches, and found ourselves wondering if any of it is relevant to our business and whether it's going to be more disruptive or expensive than it's worth.
So we start by getting to know you and your needs, and will be completely open about how we can and cannot help. Our goal is not to make a quick sale, but to add measurable value to your business' bottom line. That way we build real relationships founded on trust and value, so they stand the test of time.
Integration Overview and Focus Area
From an overall OOS perspective we integrate with third party providers that provide services such as weather, vessel positioning, vessel events, port information and vessel information. This enables us to provide a preliminary benefit of creating relatively real-time situational and geo-spatial contextual understanding for our clients in respect of the conditions and positioning of their vessels and fleets. From this we can apply initial logic to create alerts to our clients when their vessels are operating in certain maritime zones, weather, and sea state conditions. Beneficial to the client we can do all of this without the necessity of integrating with their own existing systems. 
In progressing beyond this, we can begin consuming client data specific from their operations, for example, passage plans, noon reports or more frequency and specific vessel data. From this, we can increase the benefit to the Client by providing greater operational insight, predictability and alerting across several use cases which is operational beneficial across specific routes, vessel performance, itinerary and operational planning. We respect clients, and market providers, have invested heavily into their current technology and functionality. Our intent is to be system agnostic and looks to work in partnership with clients, solution providers alike to help ultimately the clients get better results for their organisations through improved and better operational insight derived from multiple sources of data. 
How 90POE integrates with Dataloy VMS
90POE´s intent is to integrate Dataloy VMS as part of this workflow to extract relevant commercial and chartering information from Dataloy VMS to apply logic and create actionable insight with our OpenOcean Studio platform for customers.
Specific therefore to Dataloy VMS we appreciate inherent within this product there is data that can be used in conjunction with other data sources to create actionable insights which are beneficial to our clients. For example, a better appreciation of voyage compliance with charter party requirements. The relevant information to produce these insights reside not only within Dataloy VMS as well as being created by the interaction and workflow with the Dataloy VMS in executing an operator's freight and hire process.