Dataloy VMS
Providing strategic certainty to your voyage management at all its stages.
Dataloy VMS is an advanced and comprehensive software system for voyage management at all its stages, from planning to post fixture.
Recognised for its flexible structure and user-friendly interface, Dataloy VMS is  the core system solution of leading shipping companies worldwide.
Contract Management
The Contract Management in our VMS houses the modules enabling users to utilise contracts as templates for planning and for estimating voyages. 
Facilitates "one-time entry" process for efficient workflow in your organisation

Manage your contract life-cycles

Tracks status and history of any contract, shipment, accumulate reports, making forecasts, etc
Voyage Planning and Scheduling
Our web-interface provides you with a modern, intuitive, easy to use solution which will enable you to keep an overview of your fleet, options and commitments.
Unsure or in short of time to analyse which options you have for scheduling? Our fleet allocation and scheduling tool will assist you with comparing your vessels TCE contribution and highlight your options for scheduling. All this to make your scheduling tasks more efficient and smart. 
Analyse positions

with regard to commitments and tentative cargoes

Scheduling assistant

highlighting options and potential TCE impact of your decisions

Quick and easy sandbox

for you to model your fleet positioning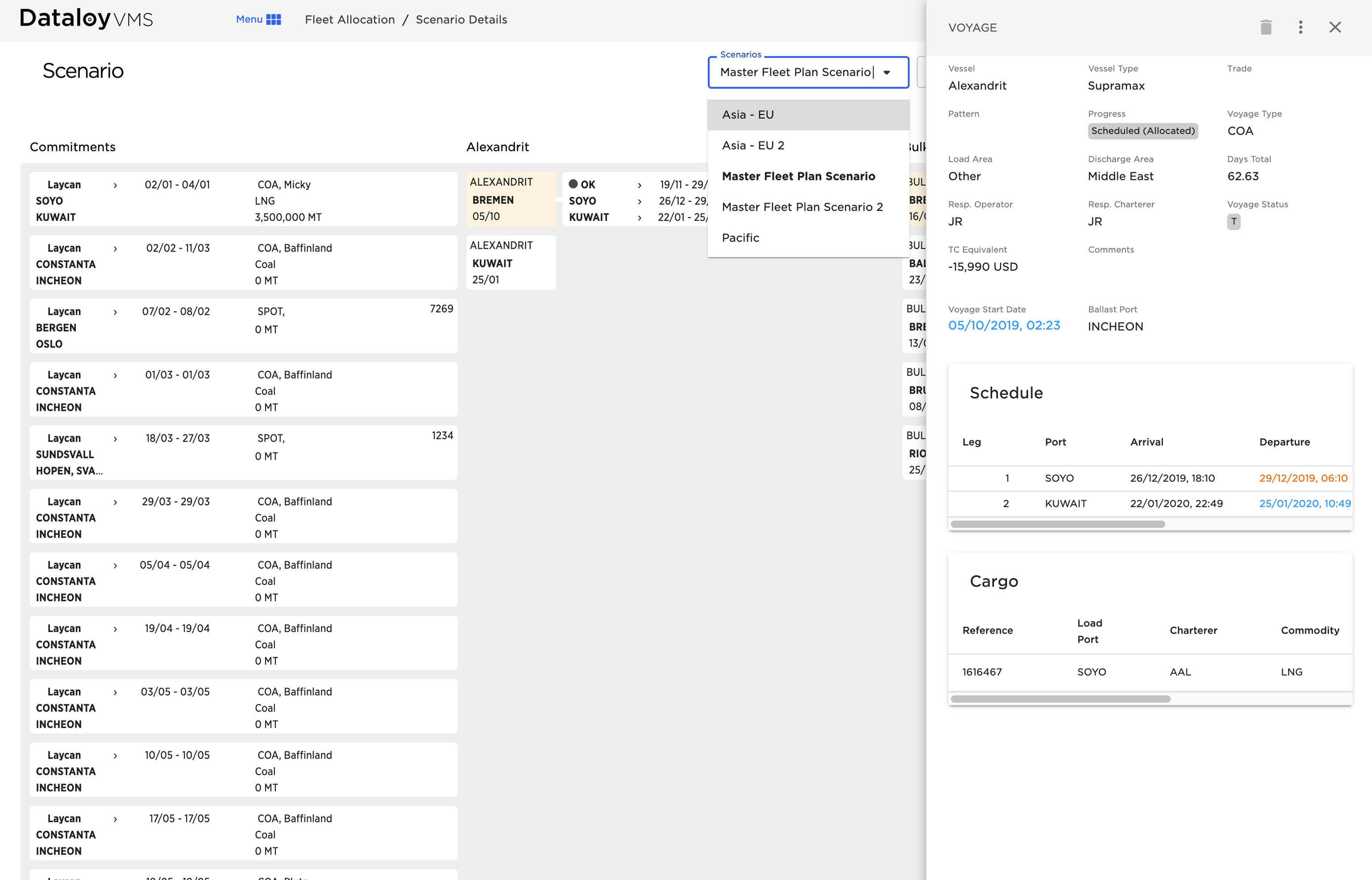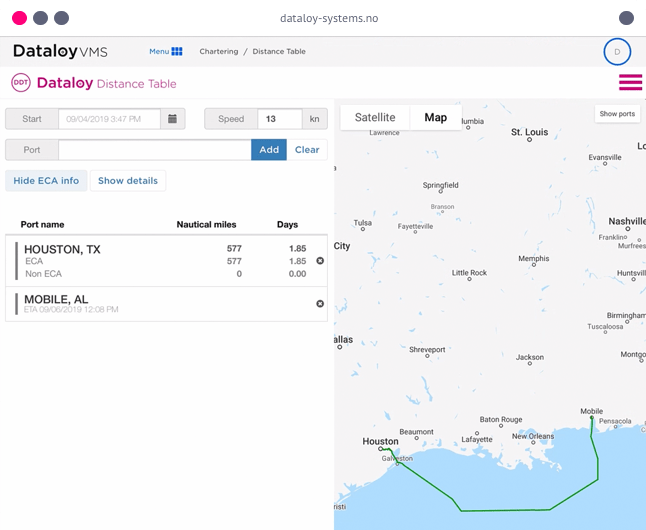 Chartering
Dataloy Voyage Management System (VMS) gives you the full capability for building comprehensive voyage estimates. Analyse P&L numbers against TCE or a designated price curve to make sure that profit is maximised. Our VMS gives you a competitive advantage for analyzing and fixing cargo.
Easily compare multiple voyages
Plan between several simulations of different voyages
Connect with ease your fixed commitments to the operations department
Benchmark estimate vs actual
TC workflows
Operations
Our Voyage Management System (VMS) enables your organisation to stay in control of your voyage operations and financial workflows. With this control you get a better foundation for your business-critical decisions across your fleet. Our customers handle complicated voyage itineraries and cargo programs with the VMS at the centre of it all.
Itinerary and Cargo Management
Voyage Financial Control
Bunker Management
Vessel connection
TC Management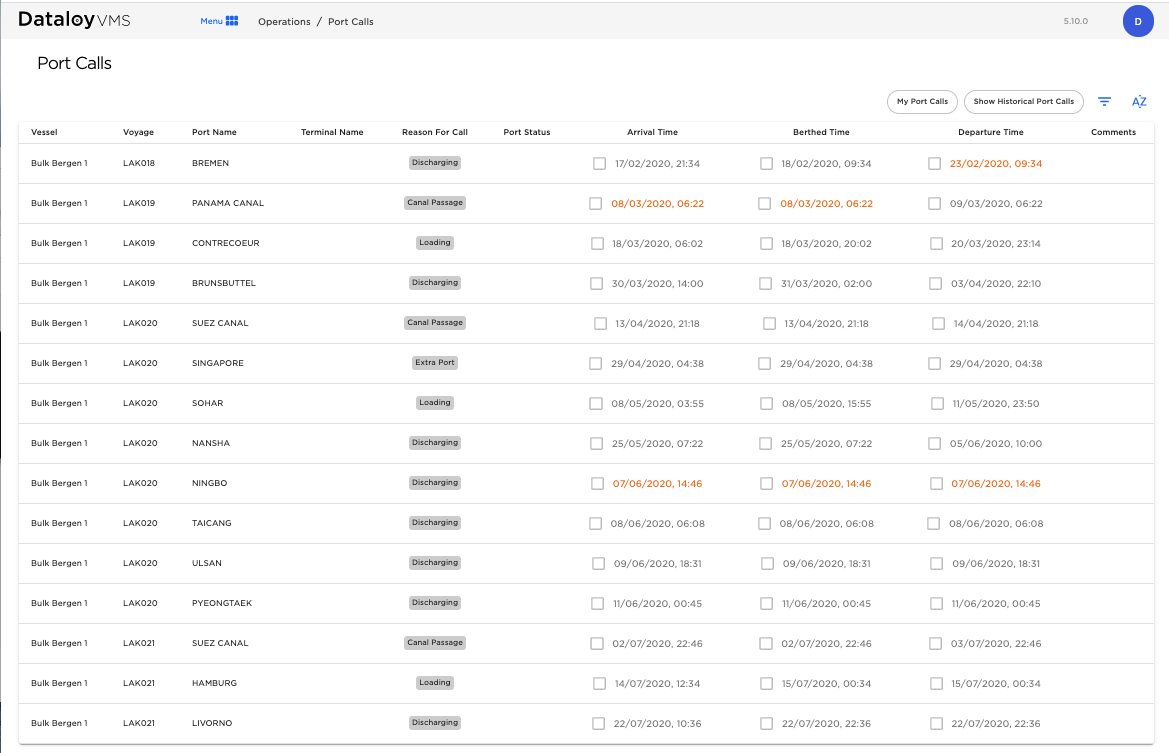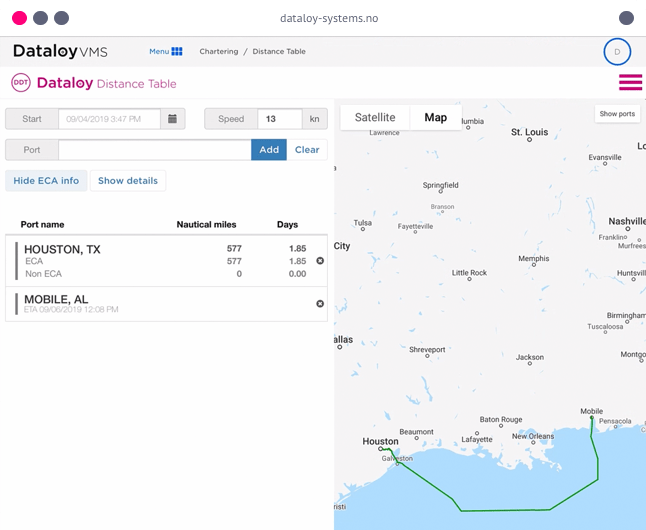 Post Voyage
Stay in control of expenses, payments and cash flow through our collection of post voyage features. Discover discrepancies from estimates to actuals and develop good KPI benchmarking routines to improve financial performance. Full integration makes post voyage analysis so much easier because the relevant data is already entered during chartering and operations and reused for financial "closing" of the voyage. Dataloy VMS also integrates seamlessly with your accounting system.
Demurrage Calculator
Accounts Receivable
Accounts Payable
Charter Hire Payable / Receivable

Voyage Estimate System
Dataloy VES is a voyage calculation tool which can be used for both voyage charter and time charter.
Clients
A selection of our clients in the tanker segment that use our software with great success.