Introducing the Cargo Management Board
Produce better schedules and react better to schedule disruptions
The process of finding a good schedule can be divided into two parts: first feasible schedules must be found, and then they must be evaluated.
 When creating a schedule, you must consider numerous factors simultaneously. The complete schedule must be practicable while also delivering all cargo in compliance with the contracts. A complete schedule includes information on which vessels will be used and the routes that they will take. It also specifies which cargo each vessel will pick up along its voyage, and the time it will be picked up and delivered. This is a major challenge already. However, when other goals such as growing pressure to improve green credentials and cost reduction are added, the process soon becomes even more overwhelming and often results on a single schedule being created based mostly on experience rather than KPIs.
But what if you could take a giant leap forward in vessel utilisation by efficiently considering several possible schedules and compare them with respect to KPIs?
Whilst this might seem like a challenge, we think it's a huge opportunity to increase efficiencies and therefore we ​​proudly present our new Cargo Management Board for schedulers.
What is a Cargo Management Board?
To better serve schedulers, owners and charterers alike, Dataloy newly developed a module called Cargo Management to enable shippers to have a real-time picture of the status of their cargo and better schedule vessels that fit their needs. As a shipping company, you need to ensure that the suitable cargo leaves the right port at the right time with the correct vessel to fulfil all your customer requirements. Better planning and scheduling of cargo shipments maximises vessel utilisation, leading to increased margins and profits, reducing ballast and minimising demurrage costs.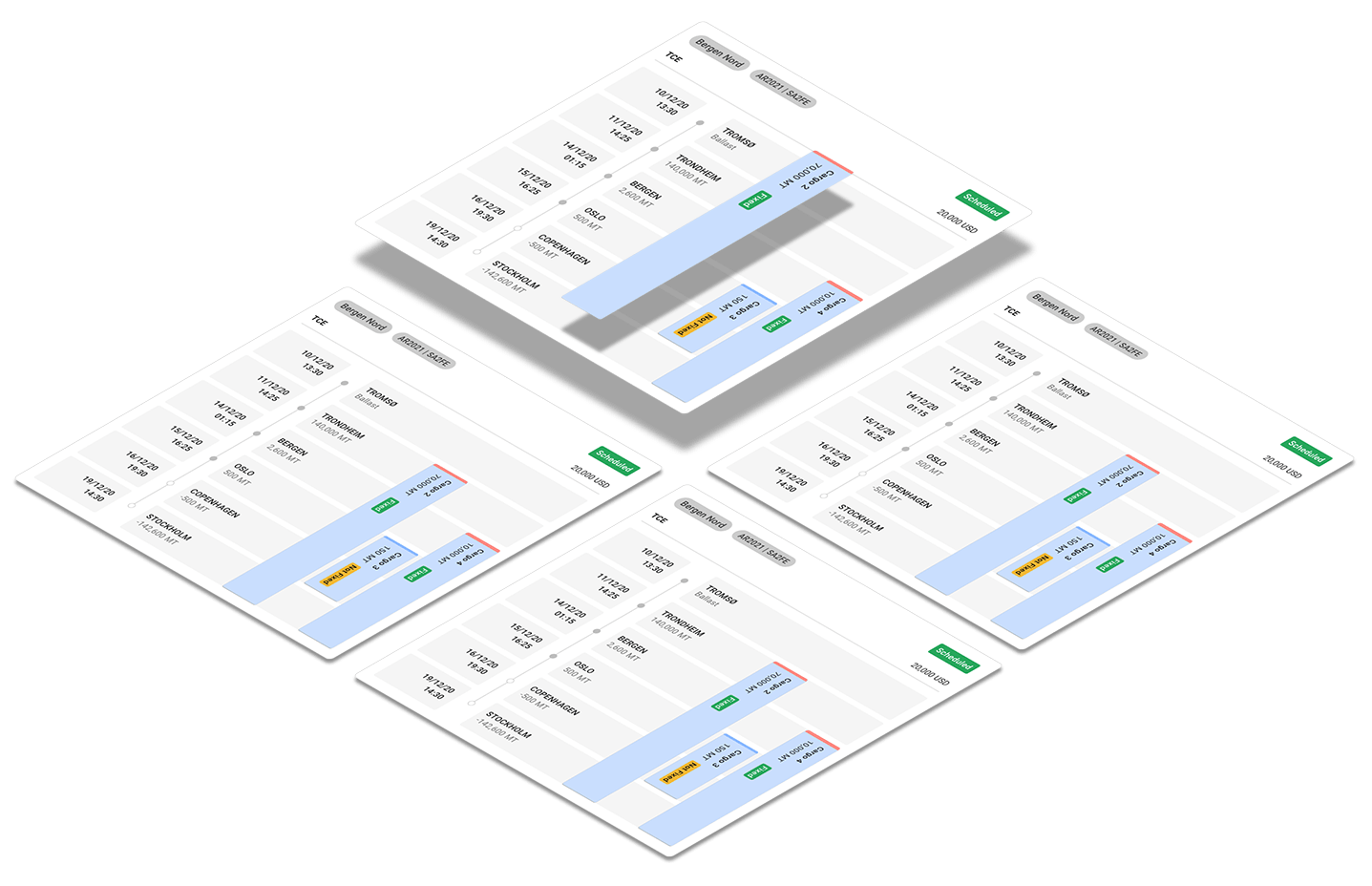 Benefits
Reduce costs through early awareness of missed laycans and avoidable waiting
The Cargo Management Board intuitively displays voyages and cargoes,  giving the scheduler a superb overview and feeling of control. Based on real-time information, both missed laycans and waiting days are highlighted. This early awareness of where action is necessary and where improvement possibilities lie will increase the number of possible actions you can take and give you time to thoroughly and efficiently evaluate your options.
Support better planning to reduce ballast days and maximize vessel utilisation
Efficient cargo management includes the ability to drag and drop cargoes between voyages and immediately assess the impact on vessel utilisation, ballast and waiting days, and adherence to laycans. Next to allocated voyages and cargoes, the new board shows all commitments that are not yet allocated. Filtering vessels by area and time period provides a visual representation of all scheduling choices for a commitment. In order to facilitate visual and intuitive cargo planning, each voyage card includes crucial information for cargo scheduling like the vessel utilisation, current port rotation and arrival times. This allows you to test a variety of cargoes and vessels before settling on the optimal solution.
As a result, increased utilisation of your vessels can be one of the driving forces to improve your overall result.  
Cargo scheduling allows a user to plan their cargo between vessels in a visually intuitive way. Combining drag and drop functionality with automatic calculation of key performance indicators (KPIs) like vessel utilisation, days in port, TCE and so on makes it easy for you to be efficient and achieve good value for money when managing cargo. A planner can always see the consequences of a decision or disruption and focus efforts to optimise your supply chain and contracts. At the same time, charterers have better information on dates and ports where your ships have overcapacity or are open, consequently allowing them to close the best deals fitting to your schedule.
Supporting sustainability through better pre-fixture decisions
While zero-emission fuel infrastructure is not yet in place, we can reduce avoidable emissions in the planning phase to have a moderate influence on our sustainability targets by coordinating ship movements and cargo loading. If we have a thorough overview of all cargoes and voyages, we can quickly fix ships that are positioned to meet laycans at reduced speeds or have shorter ballast distances.
Given these characteristics, the new Cargo Management Board provides comprehensive insights into your current schedule's strengths and weaknesses. It enables you to consider more options faster and gives you better control of the consequences. 
Together, this enables you to produce better schedules and react better to schedule disruptions. 
If you need more information or would like to book a demo, please