Sea is the leading provider of commercial software solutions for global maritime trade.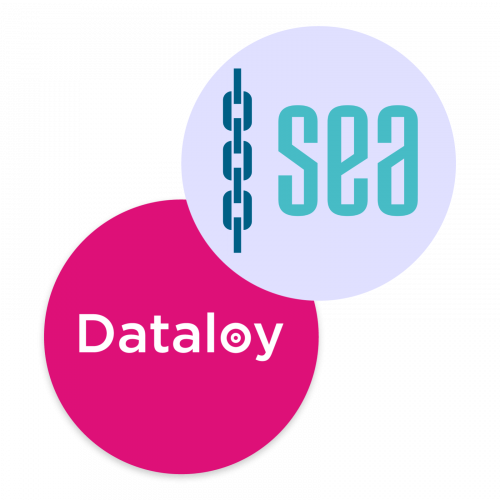 Sea delivers reliable, data-driven solutions that power better decisions to enable sustainable
shipping across the entire vessel chartering workflow, from pre-fixture to at-fixture.
Users benefit from connecting and streamlining their processes within one single, intelligent platform for freight fixtures.
Leveraging innovative software with strategic collaborations, and integrations with key partners across the maritime ecosystem, Sea is rapidly becoming the intelligent marketplace for fixing freight for all global shipping professionals.
You deserve the best ecosystem
Integration overview and focus area
The integration Sea Contracts and Dataloy Voyage Management System (VMS) enables an improved process flow, cost savings and error reduction, which will bring increased productivity and efficiency to the user. The integration is possible due to the companies' core values of providing client-centric automation and championing interoperability for the benefit of the business and the wider industry.
Once the main recap is accepted and approved in Sea Contracts the user can push the data directly to Dataloy VMS solution with one click of a button. Dataloy VMS will receive all necessary data points and provide a reference number for easy referencing.


Gaining Ecosystem Advantage: Bunker Optimisation
Bunkers are the single largest and highly volatile operational expense for the shipping industry.
Efficient use of bunker and bunker costs are susceptible to performance-based improvements and have a direct impact on carbon emissions and the bottom line. Hence, aligning on a proper strategy and reducing those expenditures is critical for companies that want to create and sustain a competitive advantage.
One quick win would be to use technology to improve and optimize fuel consumption and purchasing.
So, how can you adopt a more deliberate, strategic, and data-driven approach to bunker management with technology?
Attend this webinar where Fernando Alvarez reveals how you can optimise your bunker procurement strategy while planning a voyage with seamless and powerful integration between Dataloy VMS and BunkerPlanner.
Power better decisions to enable sustainable
shipping
Connect and streamline your processes within one single, intelligent platform
for freight fixtures.